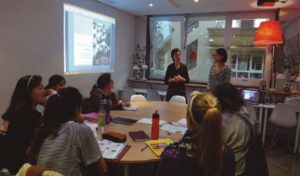 Spanish Institute for Global Education has everything needed to offer our students an experience that they will never forget. Our modern center is fully equipped with wifi, projectors, white boards, a computer lab, an extensive library, a teachers' room, a reception zone and an area of leisure for the students. Our classrooms are filled with natural light.
Spanish Institute is located in the exclusive Nervión neighborhood, famous for the Ramón Sánchez-Pizjuán stadium, where Sevilla Fútbol Club plays. It is the second largest shopping area in Seville. Fashion shops of major brands fill the adjacent Nervión Plaza shopping center and there are many tapas bars and cinemas. Live music concerts are held in the nearby Buhaira gardens, full of jacaranda and palm trees.
Our center is situated at a 15 minute walk from the historical center of Seville.
We are right around the corner from a metro station and bus stops and you can reach any point of the city in a few minutes. We are also connected to the Santa Justa Train Station and the San Pablo International Airport.