If you're learning Spanish at any level, you may have heard about the many benefits of studying abroad in Spain to improve your language skills. If this is something you're keen to try, it's important to pick the right city to pursue your studies, in order to ensure you'll get the most out of your experience.
You will definitely want to find a place that's safe, and known for its good weather. You may also want to study in a city that's steeped in history and deeply cultural elements, so that you can have as authentic an experience of Spain as possible. At the same time, it's wise to pick a city known for its friendly locals, who will be accommodating and patient with you as you practice your Spanish language skills on their home turf.
With all of these considerations in mind, Sevilla provides you with the ideal setting for a study abroad experience – ensuring you'll feel comfortable and inspired so that you can learn Spanish quickly during your stay. To learn more about the benefits of a study abroad Sevilla opportunity, let's take a closer look!
How a Study Abroad Opportunity Helps With Language Acquisition
If you're thinking of studying abroad in Sevilla to improve your language skills, you'll be making a great decision – not just because Sevilla is such a beautiful city, known around the world for its cultural and historic relevance and attractions, but also because you'll be participating in a proven study method for rapid language acquisition.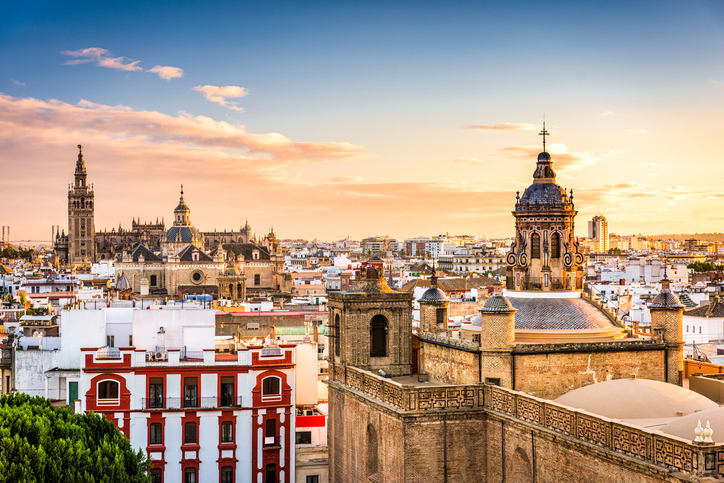 Much research has shown that studying abroad can increase the rate at which a learner picks up the local language. This is largely due to the many practice opportunities that become available outside of class time. Programs like those offered at Spanish Institute in Sevilla offer many opportunities to practice with locals, through various exciting excursions and planned activities. Most students also choose to stay with a local host family, giving the learner a wonderful opportunity to experience the authentic Spanish way of life, sharing the home with the local family, sharing traditional Spanish cooking with them at mealtimes, and practicing Spanish with them in the home setting. This central learning hub, on top of class time at Spanish school and frequent touring opportunities around Sevilla, are all ways to improve while practicing with the local Sevillians – leading to rapid learning.
Why Spanish Learners Love Learning in Sevilla
One of the things Spanish learners love the most about studying in Sevilla is its small size compared to much larger cities in Spain, like Madrid or Barcelona. Sevilla's smaller size means you'll be able to get around easily on foot — and walking is truly the best way to discover a new city! As you walk around the city, visiting its many vibrant cafes, restaurants, and shops, you'll have plenty of opportunities to practice the Spanish skills you've just learned in class with native speakers.
Additionally, in your free time after class and on weekends, you're bound to be inspired by the many traces of history you'll experience walking through Sevilla's streets, discovering the city's many Roman ruins and famous sites like its Gothic cathedral – the largest in the world! Spanish Institute helps you get to know the city even better, offering a variety of exciting activities like walking tours, visits to historic sites, fun flamenco and tapas nights, and optional excursions as part of many of its study abroad courses.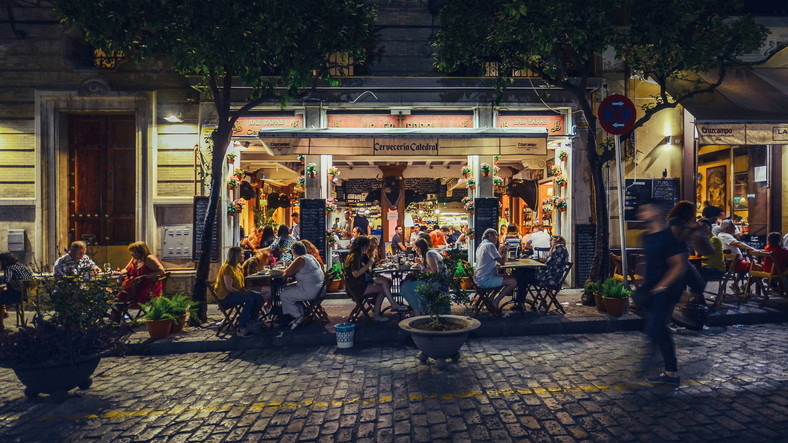 How the Spanish Institute Methodology Helps With Fast Learning
Rapid language acquisition requires a layered approach to learning, involving some level of classroom theory, but with much emphasis focusing on speaking and listening to the language. All the courses offered at Spanish Institute are designed to be participatory, intensive, and mainly oral in nature so that students end up thinking and speaking in Spanish in a very short time.
The classes themselves are designed to be varied, fun, and engaging —but it's often the organized activities outside of the classroom setting that inspire students to really put their language skills to the test. Spanish Institute makes sure students have plenty of practice opportunities around Sevilla, encouraging a lot of contact with Sevillians in a wide variety of contexts and situations. You don't need to be shy speaking with the locals, either, as Spaniards typically have a reputation for being open and friendly with non-native students practicing their newly learned Spanish skills.
The amazing sites that you discover in Sevilla, the wonderful locals and other students that you meet, and the noticeable improvement that you'll soon see in your Spanish language skills all ensure that your study abroad experience is one you'll never forget!
Interested in having the opportunity to study abroad in Sevilla?
Contact Spanish Institute today to learn which of our courses are right for you!